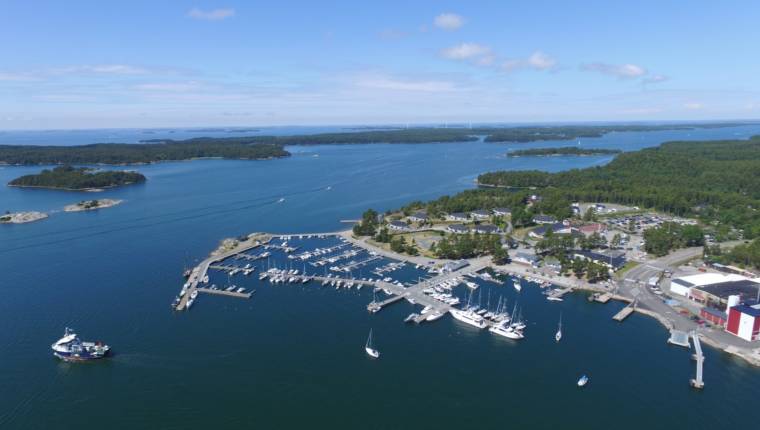 Hotel Kasnäs
Hotel Kasnäs is a family owned resort in the heart of the Kimitoisland archipelago. We are open all year around; hotel, spa with warm outside pools, restaurant, grocery store, Caravan area and guest harbour.
Our hotel buildings are shaped as seashells and they are situated on the beach cliffs, several with stunning seaview.
At our restaurant we serve an archipelago inspired lunch buffet daily as well as delicious á la carte dinners, with locally produced and seasonal ingredients.
We can also arrange conferences in modern facilities for up to 100 persons.
Our local grocery store has a versatile selection and here you can also find our own locally produced fishproducts.
In connection to the grocery store we have a café where you can enjoy diffrient types of coffees & soft drinks and pastries from Kasnäs bakery.
Our popular Caravan area can hold up to 32 RVs/house trailers. The area won a price as "Caravan area of the year 2018".
The guest harbour holds 100 guest places and 300 long term places.
We have a wide selection of different activities such as beachsauna, outdoor hot tub, minigolf, tennis, padel, boule, massage & beauty services and boat trips to the Bengtskär lighthouse, Rosala viking village and Örö fortress.
The Kasnäs nature trail is a collaboration between the hotel and the Kasnäs village community. There are three trails to choose from. The shortest trail is also suitable to discover by bike or with a stroller.
We also have a 5 km enlighted exercise trail.
During high season you can also find local handicraft and locally produced products such as vegetables & berries, bread & pastry and different types of fish products.
Tutustu lisää ja ota yhteyttä
Address:

Kasnäsintie 1294, 25930 Kemiönsaari

Phone:

25210100

E-mail:
Seuraa meitä somessa:
Season
Sopiva kokemus kaikkina vuodenaikoina.