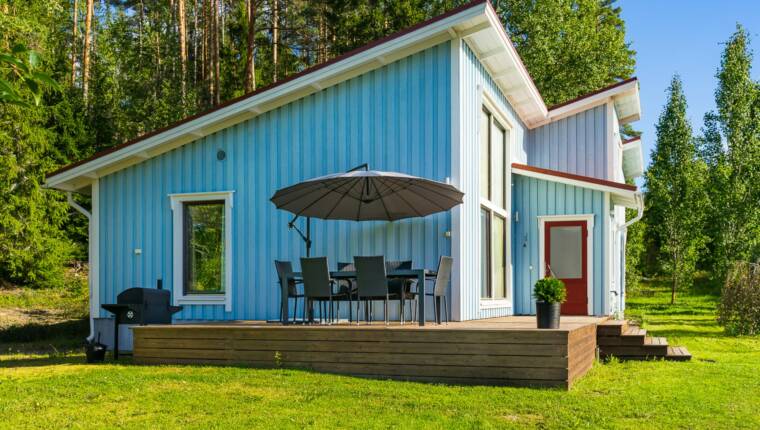 Tammikallio
Large windows let light into a modern house designed as a glass workshop in Kemiönsaari, in the Turunmaa archipelago. Tammikallio is easy to reach, and you have your own space between a field and a forest. The services of Kemiö town centre, such as grocery stores and cafés, are a few kilometres away.
You can easily get to Tammikallio by car, bus, or bicycle. By car, you can reach Tammikallio from Helsinki in about two hours, and from Turku in 45 minutes.
There is plenty to see and do in the surrounding area, including the Turunmaa archipelago landscape, Mathildedal village, Dalsbruk village, Söderlångvik Manor, and Kasnäs Spa. There are also several beaches, two golf courses, and a ski resort in the vicinity. For nature lovers, there are the Teijo National Park and the Archipelago National Park, as well as the wonderful Ekniemi nature trail and observation tower nearby.
The house has a bedroom, a living room, and a dining room with an open-plan kitchen. While located in the countryside, the house is modern, so there is running water and an indoor toilet. There is room for four to five people. The house has an electric sauna, a barbecue in the yard, a flat-screen TV in the living room, and a washing machine. The kitchen is equipped with a stove, an oven, a microwave, a kettle, and a Nespresso machine. The bedroom has a double bed, while the living room has a bed and a sofa bed. There is also a cosy fireplace in the living room.
Pets are welcome at Tammikallio!
Tutustu lisää ja ota yhteyttä
Address:

Turuntie 557a, 25700 Kemiönsaari

Phone:

+358 40 7525637

E-mail:
Seuraa meitä somessa:
Season
Sopiva kokemus kaikkina vuodenaikoina.